Omni Family Health
Payment Options
Understanding Your Bill
Omni Family Health is committed to making healthcare bills easy to understand and convenient for you to pay online. If you received services from any Omni Family Health location and have an account with Omni Family Health, please choose from one of the options listed below to pay your bill.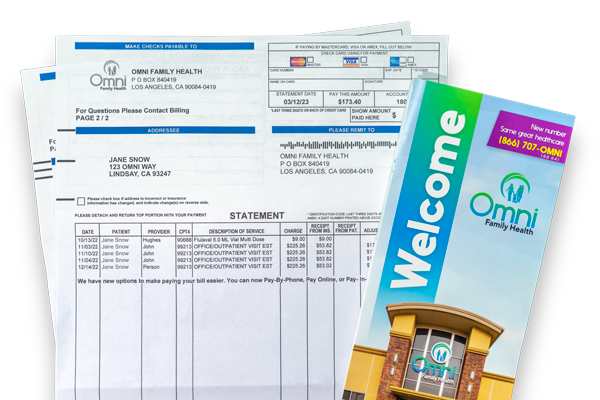 We Offer Multiple Payment Options
InstaMed™
InstaMed allows patients to pay their healthcare bills securely and hassle-free online. To make a payment, click the link below, use your account number and follow the prompts. Your account number is listed on your statement/bill.
For questions about your bill, please call (866) 707-OMNI (66 64). For technical questions about the InstaMed website, contact InstaMed customer service via email or telephone at (866) 467-8263 or support@instamed.com.
Patient Portal™
If you are a patient with Omni Family Health, you may gain access to the Patient Portal by creating an account. This will allow you to view billing statements, make payments, request medical records, request appointments and medication refills, view lab results, and communicate with your healthcare provider.
Note: This option is currently down for maintenance. We expect it to be available in the near future. We appreciate your patience.
Interactive Virtual Response (IVR)™
The IVR system allows patients to make payments by phone. To make a payment, call (866) 707-OMNI (66 64) and follow the prompts for the billing department.
Credit Card on File (CCOF)
The credit card on file is an option for patients to allow Omni Family Health to securely store their personal credit card information to pay for balances due. This payment option saves the hassle of not remembering what day to pay your bill and ensures that your payment is on time. If you are interested in this payment option, please send us a message at the link below, and we will help get you started!
How can we help you?
Healthcare Coverage Enrollment Assistance
If you do not have health insurance, our Enrollment Specialists can assist you! Just call to answer a few simple questions and we'll do the rest.
Health Insurance
Omni Family Health accepts most insurance plans; however, medical insurance is not required to receive services.
Financial Assistance
Omni Family Health is a community-based health center, not-for-profit organization committed to ensuring all patients have access to care. If you have questions or need assistance paying for your visit, please visit the link below for more information.