Covid-19 Vaccine Standby List
Please sign up for our standby list. If we have a vaccine available that would otherwise be wasted, we will call down our standby list. Please answer calls from an 866 number. We have the Moderna and Johnson & Johnson vaccines. Please be advised you will need to arrive to the health center within an hour of being called.
You may be able to find an appointment for a vaccine near you, including Omni Family Health Clinics, by checking myturn.ca.gov or calling (833) 422-4255 (M-F 8 AM-8 PM, Sa-Su 8 AM-5 PM).
Omni Family Health is working with county and state agencies to ensure our health centers are ready to assist in the COVID-19 vaccination strategy. We received our first shipment of the Moderna COVID-19 vaccine on December 23, 2020 and immediately began offering vaccinations to our frontline workers in accordance with federal, state, and local guidelines. Vaccination is one of the most important tools to end the COVID-19 pandemic. Most Californians are expected to be offered the vaccine by summer 2021.
To learn if you are eligible for the COVID-19 vaccine in your county or to learn more about the COVID-19 vaccine, please visit the following official websites:
Key things to know
Vaccine supply is limited. Due to these limitations we are currently booking within 2 week increments to ensure the availability of vaccination appointments.
Omni is administering the Moderna COVID-19 vaccine. This vaccine requires 2 doses 28 days apart to get the most protection.
All patients will need to wait 15 minutes after receiving each vaccine to ensure there are no allergic reactions.
A patient cannot receive the vaccine if they currently have the virus or are under quarantine for exposure. You can get the vaccine as soon as you are fully recovered from having the virus.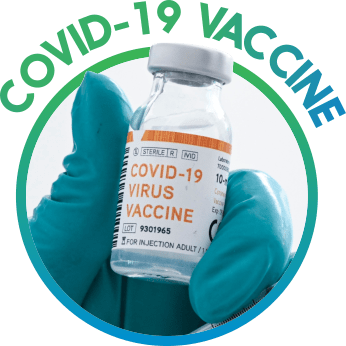 About the COVID-19 vaccine
Omni Family Health is administering the Moderna COVID-19 vaccine. The Moderna vaccine is an mRNA vaccine that does not contain the live virus. To learn more about mRNA vaccines and their safety visit the Center for Disease Control's website here.
Side effects of the COVID-19 vaccine
COVID-19 vaccination will help protect you from getting COVID-19. You may have some side effects or immune responses, which are normal signs that your body is building protection. These immune responses may affect your ability to do daily activities, but they should go away in a few days.
Common side effects of the vaccine are:
Throughout the rest of your body:
Fever
Chills
Tiredness
Headache